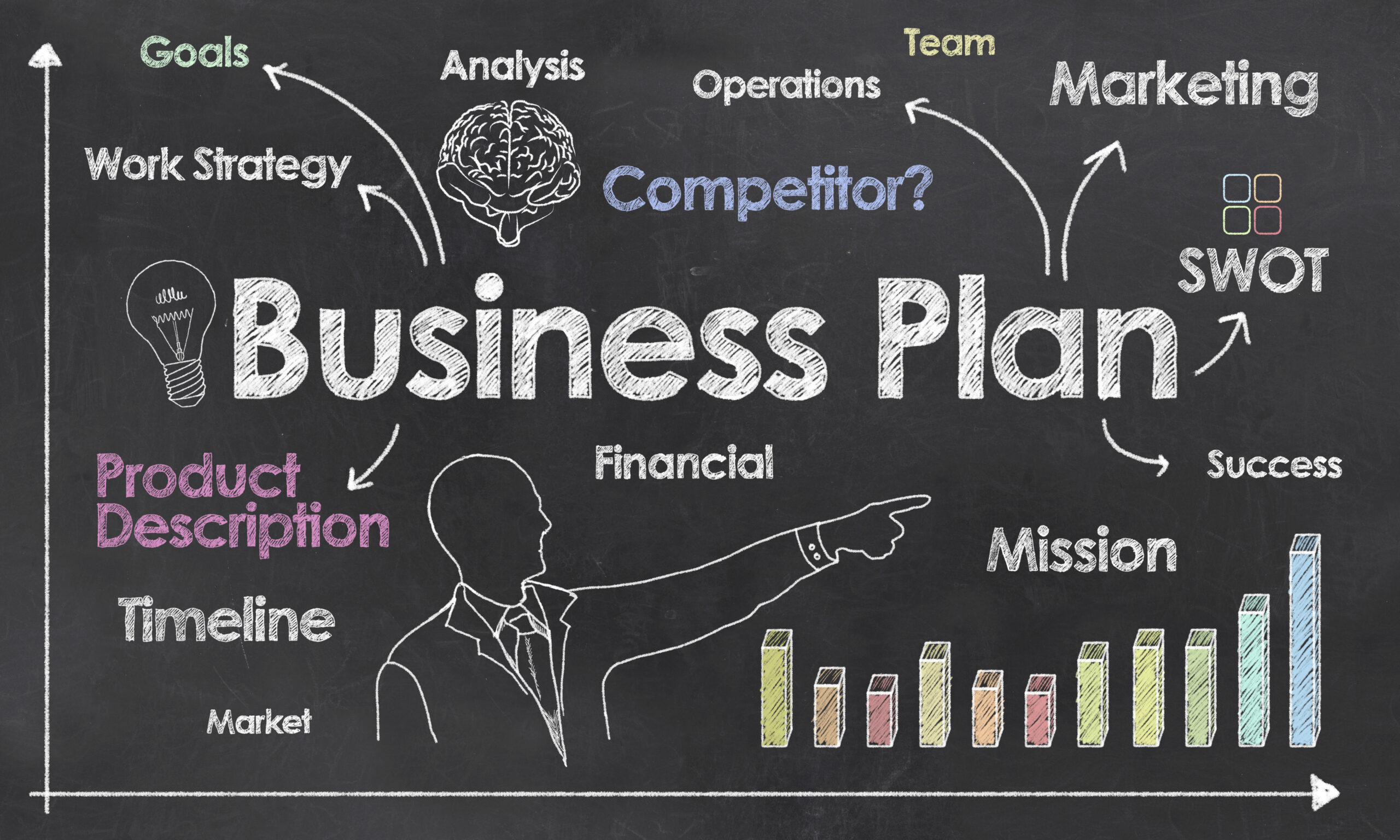 What is Business plan
Standard Business plan is a formal statement of a set of business goals, the reasons they are believed attainable, and the plan for reaching those goals. It may also contain background information about the organization or team attempting to reach those goals.
Business plans are decision-making tools.
BASIC STRUCTURE OF A BUSINESS PLAN THAT CAN BE APPLICABLE TO SMALL, MEDIUM AND LARGE VENTURES.
A professional business plan consists of ten parts.
1) EXECUTIVE SUMMARY
The executive summary will provide the readers and potential investors a brief yet dynamic description of the key components of the business plan. To make sure it is clear and comprehensive, it is often the last section to be written. A first time reader should be able to read the summary by itself and know what your is all about. The summary should stand alone and should not refer to other parts of your business plan.
The summary, between one to three pages in length, will motivate readers to continue reading the remainder of the business plan in more detail.
The summary should include the following sub-sections:
Business Description
Provide a brief description of your company. The opening paragraphs should introduce what you do and where. From this section, the investors must be convinced of the uniqueness of the business and gain a clear idea of the market in which the company will operate. The partnership should state as well as the objectives of the business via a mission statement that clearly states the business purpose and values include a vision statement as well as where you see the business in five to ten years.
2) MARKET ANALYSIS
Provide a brief description of the market you will be competing in. Here you will define your market, how large it is, and how much of the market share you expect to capture.it is important to reference credible sources and include the name of your sources of information along with a date. indicate how you will market the products/service and which channels will be used to deliver your product/services to your target markets(i.e website, direct sales force, value-added resellers, channel partners etc
3) COMPETITION ANALYSIS
It is important to show the reader that you have investigated the competition. identify the direct and indirect competitors, with analysis of their pricing and promotional strategies, as well as an assessment of their competitive advantage. Based on this analysis, you can identify key obstacles for your business, the additional services you might offer, competitive challenges as well as opportunities ahead. Briefly describe the competitive outlook and dynamics of the relevant market in which you will operate.
4) OPERATIONS
Operation section outlines how you will run your business and deliver value to your customers.
Operations are defined as the processes used to produce your products/services and deliver them to the marketplace and can include manufacturing, transportation, logistics, travel, printing,
consulting, after-sales service, and so on.
Operation checklist:
How will you produce and deliver your product/service?
What will you do in-house and what will you purchase(make vs buy)?
How will you use your operations to compete? cost? quality? timeliness? flexibility?
What comparative advantages do you have with your operational design?
What will be your relationship with vendors, suppliers, partners, and associates?
The operation section should also include the following subsections:
Operation strategy
Scope of operations
Ongoing operations
Location
Personnel
Production
Operation expenses
Legal environment
Inventory
Suppliers
Credit policies
5) ORGANIZATION AND MANAGEMENT
The quality of a company's management team is one of the best prediction of success, thus investors will look very closely at the individuals who will be managing the company.
The Management section should also include:
Company Organization
Describe how your company will be organized.
How will your business be organized? What does your organization chart look like?
What is the ownership structure of your company?
Will you have a board of directors?  Who will be on it?  What will be their role?
Management Team
Biographies of the Management Team
The management section should include the names and backgrounds of lead members of the management team and their respective responsibilities. Describe the founders and principal managers who will run your business.
Who are the key managers?
What will be their duties and responsibilities?
What unique skills do they bring to the business?
How will they be compensated?
Summarize resumes of key management and owners
List education, skills, experience (including past duties). Focus on important past accomplishments but do not be too lengthy. detailed resumes may be included in an appendix.
What additions to the management team are you planning? When?
If there is a key position that is not yet filled, explain your plans to do so etc
Briefly describe the job and the profile, compensation, and qualifications of the prospects etc
Management structure and style
Organizational chart: Insert your organizational chart as a supporting file in this area etc
6) SERVICES OR PRODUCT LINE
This should include a very brief overview and description of your products and services, with emphasis on distinguishing features. Be sure to answer the following questions that are usually asked by potential investors:
How will the products be made or the services performed?
What will they do for the customers/clients?
What is different about the product or service your business is offering?
What value do you add to your product?
What is it that separates your company from the rest of the pack?
Is your product or technology proprietary, patented, copyrighted
7) MARKETING AND SALES  ACTIVITIES
The Standard Business plan  marketing and sales section of your plan will make or break the prospects for your venture. A great idea is meaningless if you cannot find customers. Carefully drafted and logical financial projection is irrelevant if nobody buys your product/service. In this Marketing Strategy section, you must convince potential investors and loan officers that there is indeed an eager market for your product. The Marketing Strategy section is where you show how you are going to fit into the market structure you just finished describing. What are on met needs in the market place and how are you going to fill them? How will you differentiate your product/service from your competitors? What are unique features, benefit, or capabilities will you bring to the market place? Who are your customers? The research you do find this sub-section will be with customers, potential customers(and yourself) that customers will indeed come flocking to buy your product/service. Customer research can include simply talking with potential customers to get a reaction to your product idea, conducting focus groups, undertaking walk-up or mailed surveys, putting up a mock demonstration of your concept and soliciting customer feedback, and so on. Be creative in finding ways to get honest customer input about your product or service. Finally, do not inadvertently cook the books here. Since you are enthusiastic about your concept, customers will notice your enthusiasm and often reflect it back to you, leading to erroneous conclusions about customer acceptance. It is, therefore, preferable to be neutral and factual as you collect data.
The Standard Business plan  Market Strategies and Sales section should also include the following sub-sections:
Market segmentation
Targeting
Positioning
Product/service strategy.
Pricing
Distribution channels.
Promotion and advertising strategy.
Sales strategy.
Sales forecasts.
8) OFFERING / FUNDING REQUEST
The Standard Business plan  offering (or funding Request) is where you make your pitch for money. If you have decided to seek equity capital, then you need to offer the(potential investors, venture capital firm etc) a specified share of your company in return for a specific amount of money. if you are seeking a loan, you need to request a potential lender (bank, customer,  friend and family members etc) for a specific amount of money in return for the principal plus interest. In either case, it is important that you should be specific with your funding needs, sell the advantages of your proposals to the investors and make it clear how the investors can get their money back i.e what is their gain (ROI). In addition, it is important that you persuade investors that the deal you are offering is fair to them(win-win) and is supported by facts. Finally, remember that everything is open to negotiation, so do not give away the farm in the first round.
The funding request section should also include the following sub-sections:
Capital requirement
Risk/opportunity
Valuation of business
Exit
Refining the plan
For raising capital
Refine according to the type of business
9) FINANCIAL PROJECTIONS
It is important to have a strong, well-constructed financials. if you cannot show that your great concepts are going to make (a lot of) money, your potential investors and loan officers will quickly lose interest. To construct your financials. it is highly recommended that you start with your development and operations plan to create a schedule or timetable of development and operation activities. From these development activities, you can then create cash flow projections, income statements and pro forma balance sheets for at least three years into the future and sometimes five. As a rule of thumb, your financial projections should extend far enough into the future to the point where your business has achieved stable operations. The Financial section should be a discussion and a description of your financial projections-put the actual financial spreadsheets on the last page. Describe the timing and amount of investment that you will require to achieve your plans. Then demonstrate that this investment is a good one by showing that profits, assets, and ROI are all favourable as the business progresses
The financial projections section should also include the following subsections
Start-up funds.
Financial history and analysis (current businesses only).
Current financial position (current, takeover or franchise businesses only)
Break-even analysis
Balance sheet.
Income statement.
Cash flow.
10) APPENDIX
The appendix is where you should provide all of the documentation that supports the body of your business plan. Include those documents that are required (e.g financial projection), those that are helpful (e.gresults of marketing studies) and those that assist in selling your idea(e.gletters of interest from potential customers) Do not include lots of targeted information such as newspaper clipping or tables of data unless they really serve to bolster your plan. One way to deal with information that is voluminous and/or lengthy (such as a large market research study) is to summarize it and note in the plan that the complete document is available upon request.
The appendix includes financial documents such as:
Start-up budget
Financial history and ratios
Financial projections
Break-even analysis
Balance sheet
Income statement
Sales forecast
Cash flow statement etc
Therefore, it is important to have the appendix within easy reach.
WHAT is THE PURPOSE OF A STANDARD BUSINESS PLAN
Standard Business plan  helps management or an entrepreneur to clarify, focus and research their business's or project's development and prospects.
Standard Business plan  provides a considered and logical framework within which a business can develop and pursue business strategies over the next three to five years.
Standard Business plan  serves as a basis for discussion with third parties such as shareholders, agencies, banks, investors etc.
Standard Business plan  offers a benchmark against which actual performance can be measured and reviewed.
NOTE: WHEN WRITING BUSINESS PLAN YOU SHOULD TAKE CARE OF THE FOLLOWINGS:
Avoid unnecessary jargons
Economize on words
Use short crisp sentences and bullet points
Check spellings
Concentrate on relevant and significant issues
Break the text into numbered paragraphs, sections etc.
Relegate detail to appendices
Provide a contents page and number pages
Write the summary last.
SEVEN KEY STEPS  STRATEGY DEVELOPMENT IN BUSINESS PLAN  
STEP 1: VISION
The first step of Standard Business plan  is to develop a realistic Vision for the business. This should be presented as a pen picture of the business in three or more years time in terms of its likely physical appearance, size, activities etc.
Answer the question: "if someone from Mars visited the business, what would they see or sense?"
STEP TWO: MISSION
The nature of a Standard Business plan is often expressed in terms of its Mission which indicates the purposes of the business, for example, "to design, develop, manufacture and market-specific product lines for sale on the basis of certain features to meet the identified needs of specified customer groups via certain distribution channels in particular geographic
STEP THREE: OBJECTIVES
The third key element is to explicitly state the business's Objectives in terms of the results it needs/wants to achieve in the medium/long term.
STEP FOUR: VALUES
The next element of Standard Business plan is to address the Values governing the operation of the business and its conduct or relationships with society, customers, employees etc.
STEP FIVE: STRATEGIES
Next are the Strategies – the rules and guidelines by which the mission, objectives etc. may be achieved. They can cover the business as a whole including such matters as diversification, organic growth, or acquisition plans, or they can relate to primary matters in key functional areas, for example:
1. The company's internal cash flow will fund all future growth.
2. New products will progressively replace existing ones over the next 3 years.
3. All assembly work will be contracted out to lower the company's break-even point.
STEP SIX: GOALS
Next are Goals. These are specific interim or ultimate time-based measurements to be achieved by implementing strategies in pursuit of the company's objectives, for example, to achieve sales of $3m in three years time.
STEP SEVEN: PROGRAMS
The final elements are the Programs which set out the implementation plans for the key strategies.
Thank you
You can see more of our management training, business, and marketing materials HERE.