The Project Organization defines the human infrastructure of the project. This task is designed to define the project organization chart, the roles, and the relationships of the project team. The organizational structure clearly identifies the roles and responsibilities of each position, augmenting the existing role definitions where necessary to cover all of the responsibilities.
Project Management- Triangle
The project can only be successful if the desired objective can be achieved in all three target dimensions i.e time, costs and quality. This is the expectations of the stakeholders etc.
Project Organization: Role Allocation
Role of Client:
Initiator and client of the project
Assigning of project manager and deciding of the project organization, Competence regulation of project manager
Approval of project and project results/milestones
Involvement of affected Departments for the project
 Project Organization: Project Manager
Role of Project Manager:
Moderation of project objective and goal process with the client
Responsible for the achieving of agreements of project results and goals
Responsible for operative planning and controlling of project terms of structure, process, schedule, capacity and cost
Make substantive decisions
Give instructions or job orders to staff members with int he projects
Project Organization: Project Employee
Role of Project Employee:
Responsible for the implementation of the assigned work packages and tasks
Technical and administrative tasks
Finish assigned work units correctly, in a timely manner and on budget
Coordination within the team and with the project manager
Reporting of work progress of the project
Inform the project manager on time about risks and target-information-deviations
Project Organization: Steering Committee
Role of Steering Committee:
Steering committee as the supreme decision-making body of the project organization
The project supporters support the project management and staff in planning and managing the project
Making decisions that are outside the competence of project manager
Monitoring of project results and progress
Identification of plan and deviations
Project Organization: Expert
Role of Expert:
Technical supervisors who provide their know-how and resources to achieve the project objectives
Project Organization: Sponsor
Role of Sponsor / of the sponsors
Internal support of the project manager and project teams
Minimization of acceptance problems and resistors
Representation and defence of the project steering committee meetings, committees and events
Representation of the project in public project activities and publications
PROJECT MANAGEMENT – SIMPLE PHASE MODEL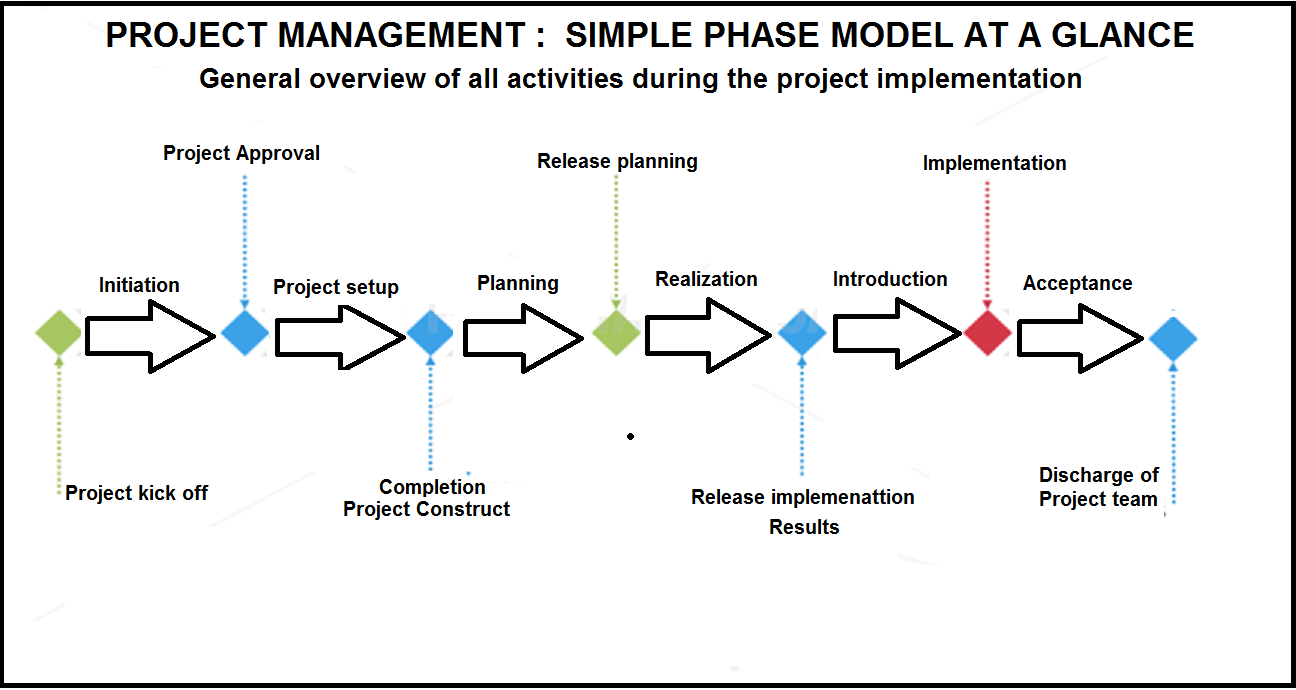 Thank you.
You can see more of our project management training, business, and marketing materials HERE.