Meaning of Marketing plan
is an interactive tool to help you compile a professional, high-quality marketing plan for a new or existing business.
Benefit in preparing a Marketing plan in an organizational system

 helps identify the characteristics of your target markets, market sizes, and competitive factors, It documents how you're going to sell to your market and then helps determine how marketing money should be spent and the revenues this should generate.
When preparing your organization Marketing plan, you are mandatory to fulfil the following  listed below points:
Define market potential and opportunity.
Identify risks, problems and trade-offs.
Guide operations and manage growth.
Consider every facet of your market.
Document funding decisions.
Force critical thinking about strategy.
Challenge assumptions.
Examine alternative strategies.
Define the personnel and resources required.
Clarify goals and risks.
Key characteristics you need to bear in mind as a business owner, entrepreneur when preparing a Marketing plan to your organizational development.

Identify Markets i.e By considering who you are selling your product or service to is the key to determine how to sell them. you must also identify your competitions and their influences in the market place e.t.c
Identify your competitors and their market share i.e you need to consider your strongest competitions at this time and determine why are they so strong in the market, you also need to analyze and evaluate the tactics to respond to their efforts, and finally, you need also to evaluate and analyze how your own tactics will succeed SWOT analysis might be a useful tool at this stage e.t.c

Identify your competitor image product or services i.e you need to analyze and evaluate your competitor's image product or service, financial strengths, commitment to market size in comparison to your organization (benchmarking tool can be applicable)
Meaning of Marketing strategy
A Marketing strategy is a behavioural plan to achieve corporate and marketing objectives.
In the context of marketing planning, it is important to create the correct marketing mix next to the marketing segmentation.
This means the implementation of an overall marketing strategy by explaining the ways in which you want to enter the previously selected markets.
The marketing strategy also includes all basic, short-term, and long-term activities in the field of marketing that deal with the analysis of the strategic initial situation of a company and the formulation, evaluation and selection of market-oriented strategies and therefore contribute to the goals of the company and its marketing objectives.
In addition, Marketing strategy Is based on the four below listed points:
Market simulation strategy
Competition strategy(porter)
Growth strategy(Ansoff)
Promotion strategy
Summary of the basic Marketing strategy that can be useful for our analysis or evaluation system in the organization.

Where? i.e in which market is the company active?
How? i.e what is the central orientation of the marketing strategy?
When? i.e when will the company become active in the market?
Simplified process steps to follow when creating a marketing plan in an organizational system. (pictorial)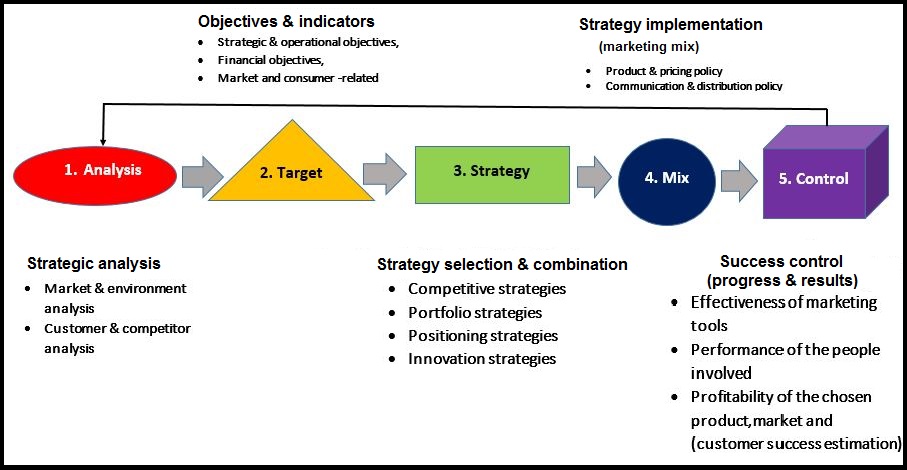 Thank you.
You can see more of our management training, business, and marketing materials HERE.